Navigating through your Education Walkthrough mobile app with ease is crucial for a seamless learning experience. One essential aspect of ensuring the optimal performance of your app is by keeping it updated to the latest version. By doing so, you benefit from the latest features, improvements, and bug fixes, enhancing your overall user experience. Here, we will guide you on how to check the version of your Education Walkthrough mobile app in a few easy steps.
Steps to Check Your App Version:
Follow the steps below to quickly and easily find out the version of your Education Walkthrough mobile app:
1. Open the Education Walkthrough Mobile App:
Launch the app on your mobile device. Ensure your device is connected to the internet for the most accurate information.
2. Navigate to the Settings Page:
On the home screen of the app, locate the bottom right icon and tap on it. This icon typically resembles a gear and is universally recognized as the settings or configuration section of mobile apps.
3. Scroll Down the Settings Menu:
Once you're in the settings page, scroll down to explore the various options available. The settings page contains various options that allow you to customize and manage your app according to your preferences.
4. Locate the 'Share Feedback' Option:
Continue scrolling until you find the 'Share Feedback' option. This section is typically closer to the bottom of the page.
5. Check the Version Number:
Just below the 'Share Feedback' option, you'll find the version number of the app displayed as "Version X.X.XX". This indicates the current version of the Education Walkthrough mobile app installed on your device.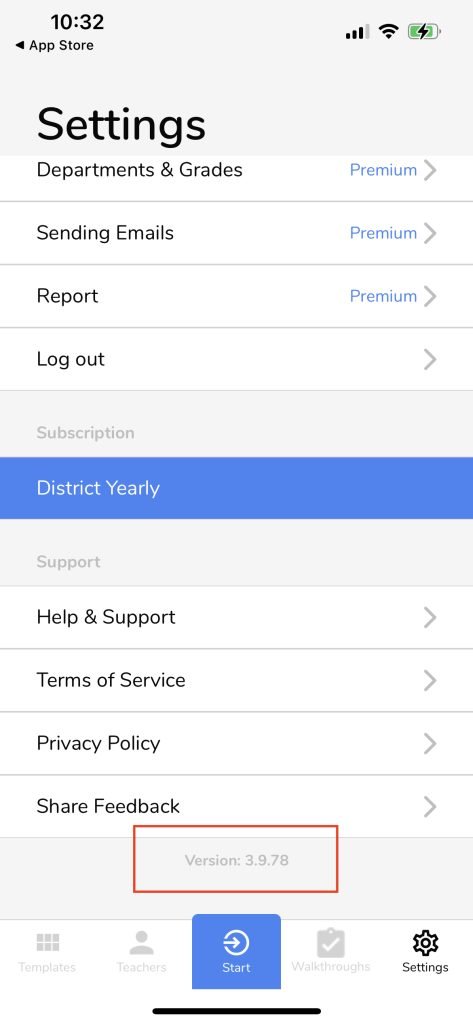 Why Checking the App Version is Important:
Keeping track of your app's version is essential for several reasons:
Updates and Improvements: By knowing your current app version, you can easily identify if you need to update your app to access new features and improvements.
Troubleshooting: If you're experiencing issues with the app, knowing the version can help support teams to diagnose and resolve problems more efficiently.
Feedback: When providing feedback or suggestions, including your app's version helps the development team to make targeted enhancements.
Updating Your App:
If you discover that your app is not up-to-date, visit your mobile device's app store, search for the Education Walkthrough mobile app, and tap 'Update'. Keeping your app updated ensures you're utilizing the latest tools and features designed to enhance your learning journey.
For any additional support or queries, feel free to reach out to our dedicated customer support team. Enjoy a seamless and enriched learning experience with the Education Walkthrough mobile app!
We hope this guide helps you in easily identifying the version of your Education Walkthrough mobile app. Stay tuned for more updates and features designed to make your educational journey intuitive, engaging, and productive!